Just play for 120 minutes per day and receive GP and weapons as rewards!
Event Period: October 1-28, 2021
Mechanics:
Play for 120 minutes per day and claim your rewards in Web Attendance.
Attendance recorded playtime will be reset each day at 00:00 (CET)
Attendance playtime will be calculated daily, and not accumulatively.
Note that to qualify, each unique login and playtime of more than 2 hours must occur within a 24-hour time that starts at 00:00 (CEST) and ends at 23:59 (CEST). If you remain login over a two-day period, it will only count as one entry and you will miss out on the rewards the previous day.
Link: https://combatarms-c.valofe.com/event/attend_202110
Rewards: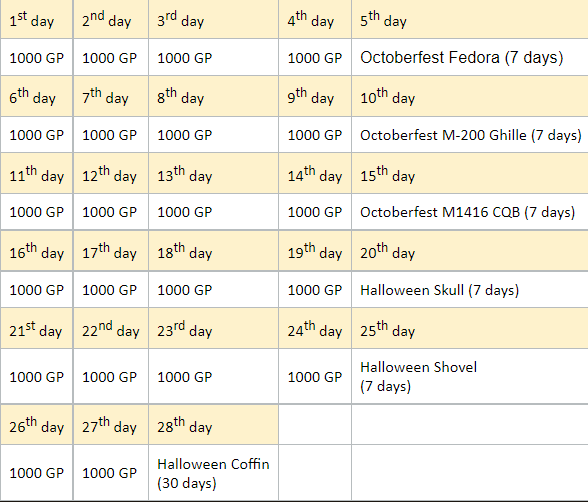 Join Combat Arms: Classic and play daily to get these rewards!
Where to Buy Multi Game Card – Click HERE.
For more information, please visit:
Combat Arms: Classic Official Site
Related Link:
Combat Arms: Classic (PC) (Global)
Social Media: Website / YouTube / Instagram / Facebook / Twitter / Pinterest